Celebrate autumn! In this two session class you will learn to cut glass and make a mosaic leaf.  You will choose from the two leaf templates provided, trace your design and learn to mosaic.  This class is great for beginners or experienced.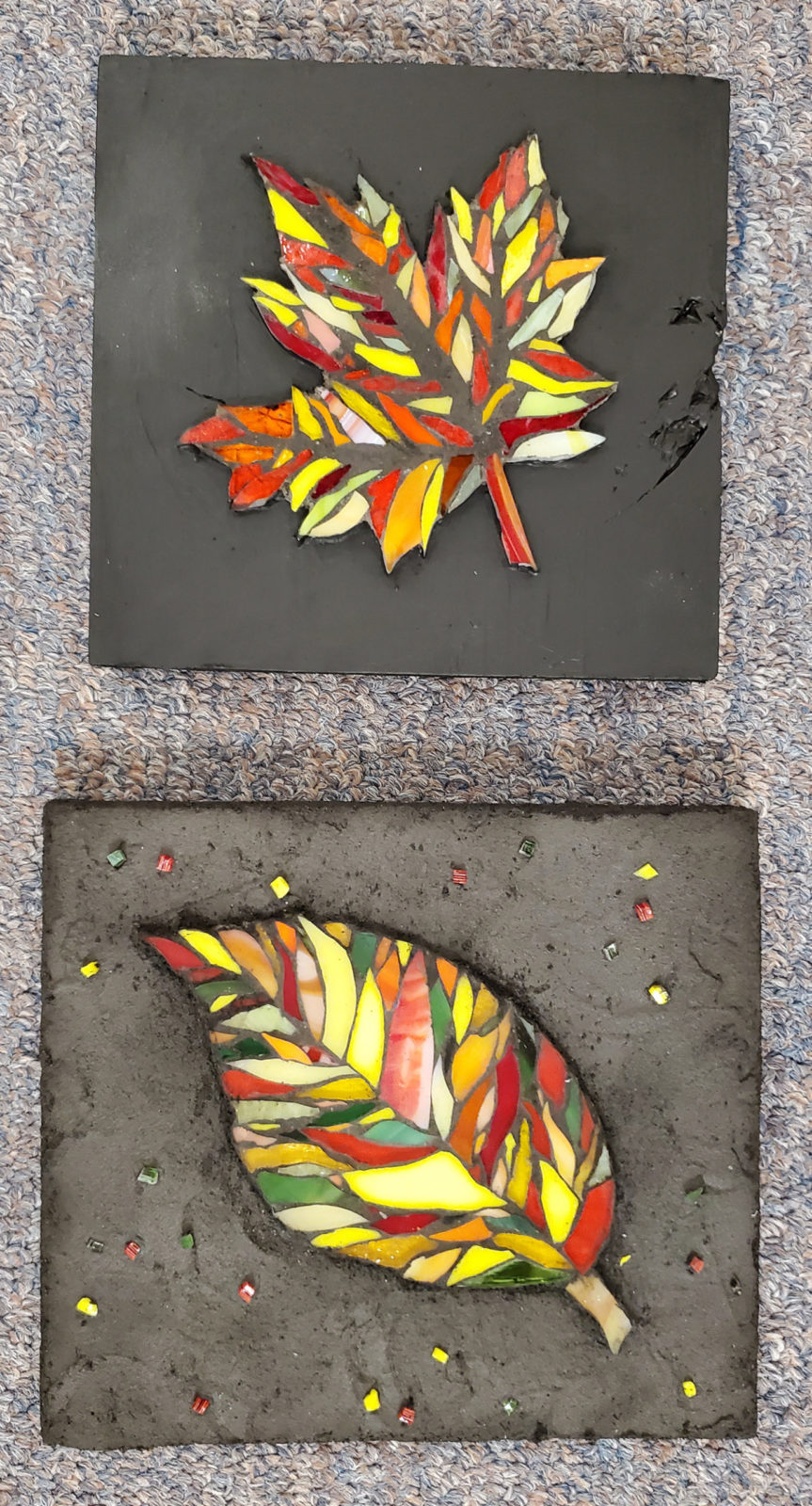 In the second session, you are welcome to complete cutting the glass.  You will also learn to grout and clean your piece, and if you are ready you will complete this step.
I will send you an email 1-2 days prior to each class, with the Zoom link and information about how to best prepare for each class.
Date and time: Thurs, Nov 12, 3-5:00 pm EST and Thurs, Nov 19, 3-4:00 pm EST
Optional Supply Kit, shipping or pick-up:
Mailed – within the continental US
Studio pick-up is on Tuesdays 1-5:00 at my Holliston, MA studio, and some Thursdays by appointment. Kits will be outside the back door of the studio labeled with your name, just let me know what day you are coming.
Kit includes:
glass
glue
charcoal grout
approximately 5" square wooden base
leaf templates
toothpick
popsicle sticks
Required supplies:
wheeled cutter/nippers – They are available for $20 additional fee. If you live locally, you are welcome to borrow them with a $20 refundable deposit from the studio.
goggles/protective eyewear
disposable gloves
table covering
tweezers
scissors
Beginner Class option:
If you are interested, I offer a beginner kit with a free video (separate class), which will give beginners more of an understanding of the process of mosaics. However, you are welcome to try this rock class as a beginner class knowing that you will be learning both beginner skills and rock skills at the same time.
Fees:
Add the appropriate coupon code (in bold) at checkout and the balance will be adjusted accordingly:
$45 class only, no kit (2 classes), no coupon code needed
$65 class with $20 optional kit, Holliston studio pick-up (Coupon code LVPU)
$75 class, with $15 kit mailed to continental US plus $15 mailing fee (Coupon code LVMA)
$95 for the above option plus the wheeled cutters (Coupon code LVMACU)
Fees for students with a 4 or 10-class package:
If you are an ongoing student, you are welcome to use your 4 or 10-pack for payment, however the kit fee for online classes is additional.
Missed Class Policy:
If you miss a class (both those with and without class packages), I will send you a recording of the session and that will be considered an attended class.
Safety information:
Keep children away from the glass, tile and hazardous materials.
Goggles are required when cutting glass and disposable gloves are needed when grouting
Vacuum thoroughly during and after project completion, small glass shards could scatter in the area
In the class you will learn to use wheeled nippers. There are many glass cutting tools. If you have other glass cutting tools, please research and practice using them before class. Scoring tools work, but with tile the wheeled nippers are easier to use.
Before I purchase this video/kit I agree that have I read, understand and will follow typical safety precautions, including those written above regarding breaking glass. I am aware that I am using adhesives and other potentially dangerous items, and will use a mask and gloves when recommended.
As a participant in classes given by Cheryl Cohen Mosaics Art Center, LLC, I recognize and acknowledge there are certain risks of physical injury, and I agree to assume the full risk of injuries, including physical injury, damages or loss that I or the children who are in the area, may sustain as a result of participating in any activities connected with or associated with such program or class. I agree to waive and relinquish all claims I or my minor child may have as a result of agents, servants, employees and independent contractors. I HAVE READ AND FULLY UNDERSTAND THE ABOVE WAIVER AND RELEASE ALL CLAIMS.