Online Live Class – Create a Mandala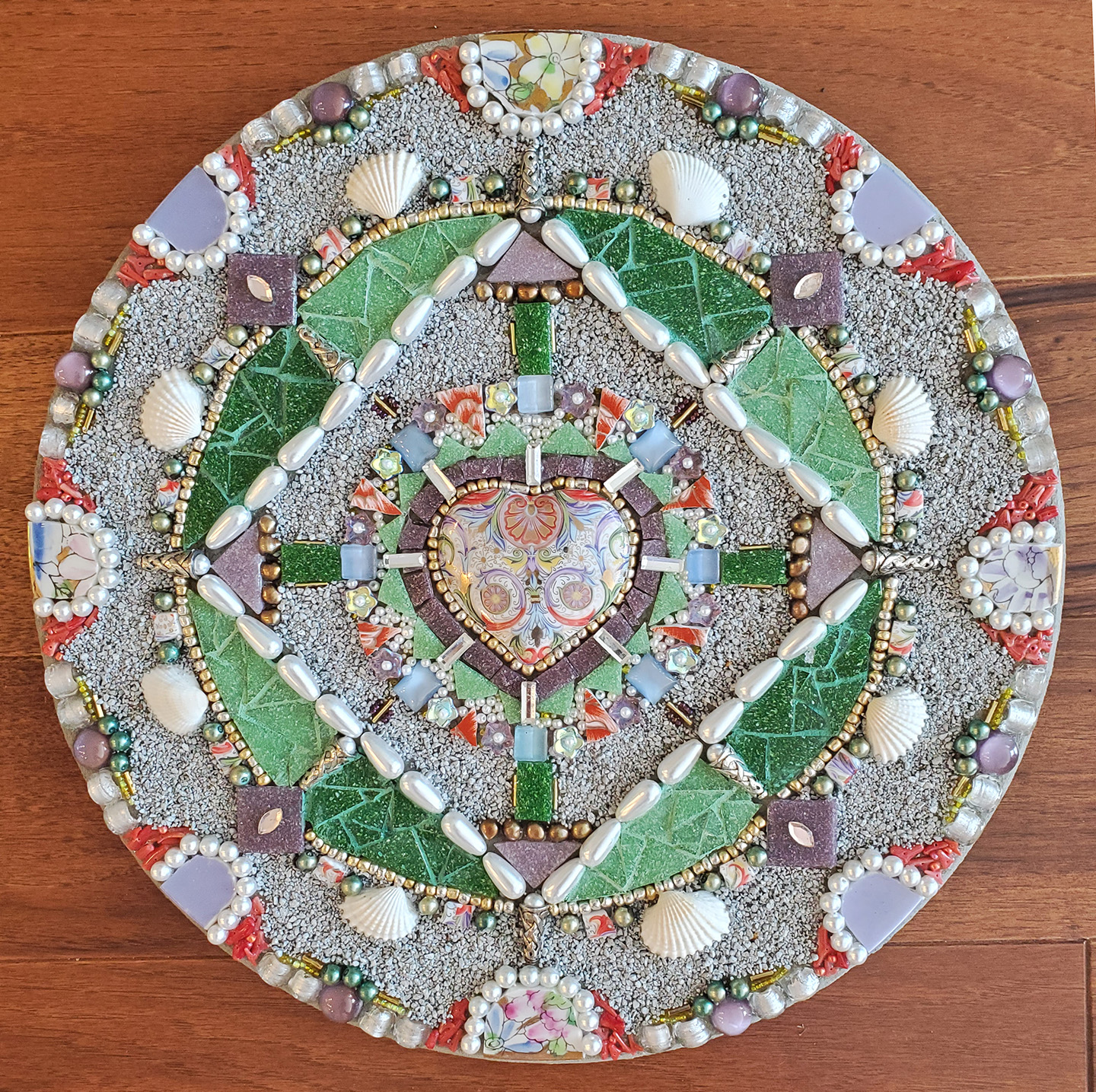 'A mandala is a complex abstract design that is usually circular in form. In fact, 'mandala' is a Sanskrit word that means 'circle'. Mandalas generally have one identifiable center point, from which emanates an array of symbols, shapes and forms.
Mandalas can contain both geometric and organic forms. They can also contain recognizable images that carry meaning for the person who is creating it.
In essence, mandalas represent the connection between our inner worlds and outer reality. Designing your own mandalas can be both inspirational and therapeutic.' (https://www.art-is-fun.com/how-to-draw-a-mandala).
Class Details:
Prior to class you will receive a variety of mandala designs to help you decide what style you would like to create. This will help us decide what supplies (glass, tile and more) you will need for the project.  Mosaic beginners are highly encouraged to pick from the projects (or something similar) provided, contact me for details.  Experienced students are welcome to send me general photos of styles you are considering, or take a more intuitive approach with personal items and supplies you have at home.
In this first of three sessions, you will learn how to seal the wood and measure the lines for the structure of the mandala. In the next two sessions, we will then learn how to cut the glass to create your design.
I will send you an email 1-2 days prior to each class, with the Zoom link and information about how to best prepare for each class.
Date and Time: Tues, Nov 3, 10, 17, 2020, 3-5:00 EST
Location: Zoom
Optional Supply Kit, shipping or pick-up:
Mailed – within the continental US
Studio pick-up – is on Tuesdays 1-5:00 at my Holliston, MA studio, and some Thursdays by appointment. Kits will be outside the back door of the studio labeled with your name, just let me know what day you are coming.
Kit includes:
12×12 wooden base
Weldbond glue
Popsicle sticks
Toothpicks
The kit does not include the glass and tile needed for this project, as that is dependent on the style of mandala you choose to create. If you have a design in mind, I can include the supplies needed at an added fee.
Required supplies:
wheeled cutter/nippers (available for $20 additional fee)
goggles/protective eyewear
disposable gloves
Optional: Personal items (stained glass, tile, beads, jewelry broken jewelry, shells, rocks and more)
Beginner Class option:
If you are interested, I offer a beginner kit with a free video (separate class), which will give beginners more of an understanding of the process of mosaics. However, you are welcome to try this garden globe class as a beginner class knowing that you will be learning both beginner and mandala skills at the same time.
Fees:
Add the appropriate coupon code (in bold) at checkout and the balance will be adjusted accordingly:
$145 – class only, no kit (no coupon code needed)
$170 – class with $25 optional kit, Holliston studio pick-up (round 12′ base, 8 oz bottle of Weldbond adhesive), (Coupon code MDPU)
$200 – class, with $25 kit mailed to continental US plus $30 mailing fee (Coupon Code MDMA)
$220 – for the above option plus the wheeled cutters (Coupon Code MDMACU)
Fees for students with a 4 or 10-class package:
If you are an ongoing student, you are welcome to use your 4 or 10-pack for payment, however the kit fee for online classes is additional.