Online Live Class – Garden Globe  
I've been so impressed how the online classes feel like we are at the studio!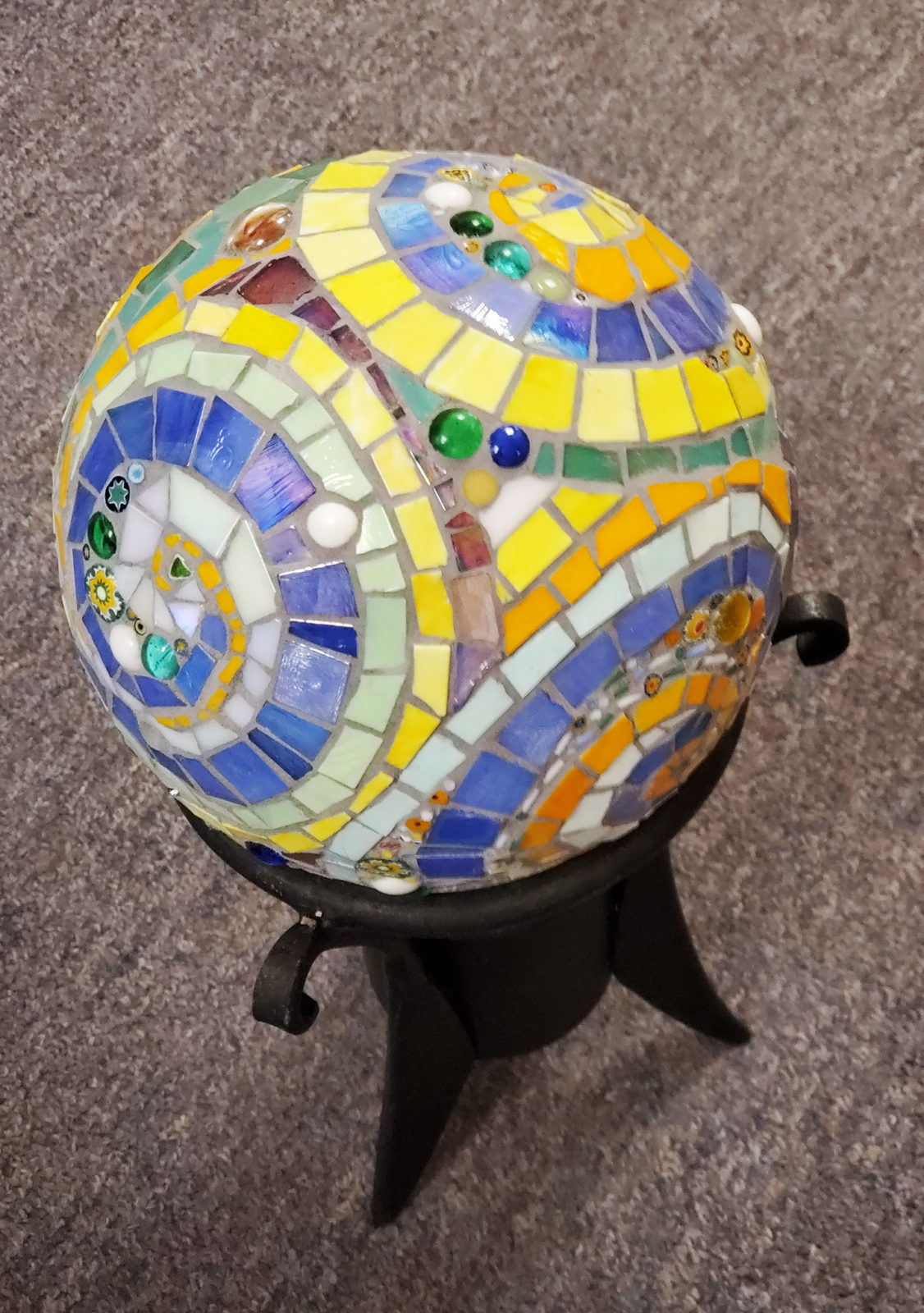 Class Details:
In this first of our three sessions, you will prepare your globe for mosaics, by covering it with mesh and thinset (a cement-based adhesive), the
n be provided with multiple ideas to design your piece. We will tile the globe in the next two sessions. I supply multi-color tile with choices (see below) in the optional kit.
I will send you an email 1-2 days prior to each class, with the Zoom link and information about how to best prepare for each class.
Date and Time:
Tues, March 30, Apr 6, 13, 2021, 3-5:00 ET
Tues, July 13, 20, 27, 2021, 3-5:00 ET
Location: Zoom
Optional Supply Kit, shipping or pick-up:
Mailed – within the continental US
Studio pick-up – is on Tuesdays 1-5:00 at my Holliston, MA studio, and some Thursdays by appointment. Kits will be outside the back door of the studio labeled with your name, just let me know what day you are coming.
Kit includes:
Cement based adhesive (for outdoor use)
mesh
Gray grout
Sphere, 6-inch
Popsicle sticks
Toothpicks
2 pounds of multicolored tile glass (1/3 multicolored, 1/3 each of two colors of your choice if you write your choice in the comment section of the registration page.  If not, you will receive a multicolored assortment).  Additional colors are $6 each, contact me for details.
Required supplies:
wheeled cutter/nippers (available for $20 additional fee)
goggles/protective eyewear
disposable gloves
Beginner Class option:
If you are interested, I offer a beginner kit with a free video (separate class), which will give beginners more of an understanding of the process of mosaics. However, you are welcome to try this garden globe class as a beginner class knowing that you will be learning both beginner skills and globe skills at the same time.
Fees:
Add the appropriate kit code (in bold) at checkout and the balance will be adjusted accordingly:
$80 – kit only ($55 if not purchased with the class) with $25 mailing, no class (Coupon code GGKO)
$145 – class only, no kit (no coupon code needed)
$185 – class with $40 optional kit, Holliston studio pick-up (Coupon code GGPU)
$210 – class, with $40 kit mailed to continental US plus $25 mailing fee (Coupon Code GGMA)
$230 – for the above option plus the wheeled cutters (Coupon Code GGMACU)
Fees for students with a 4 or 10-class package:
If you are an ongoing student, you are welcome to use your 4 or 10-pack for payment, however the kit fee for online classes is additional.