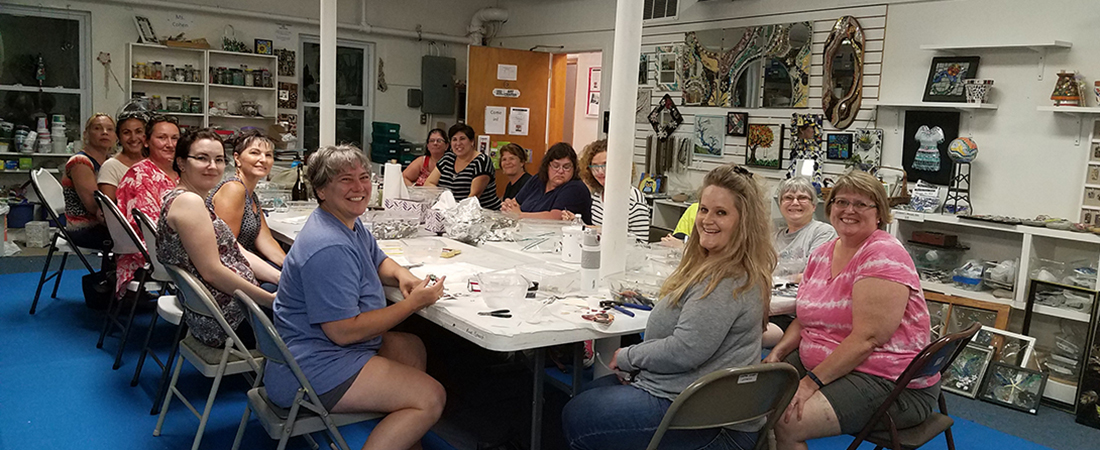 360 Woodland Street
Holliston, MA 01746
Cheryl@CherylCohenMosaics.com
508-612-4183
I am excited to annouce I'm re-opening the studio on April 20th!
I have registration open for in-studio:
Windows
Succulents
Ladies' Nights Out
Tuesday and Thursday weekly classes, 10-12:30
Saturday classes
At this time I'm offering classes to fully vaccinated people only, I'm so sorry I need to limit it, but soon the vaccines will be open to all ages.
When I first open the studio, I will limit it to 8 students, people will need to continue to wear masks, and there will be 4-5 feet of social distance between people.
Due to the smaller class size, people will need to pre-register for each class, but people with class packages don't need to attend consecutive weeks.  Also, with the gorgeous weather I'll have the windows open, and will continue to use my two air purifiers.
Gradually the world is opening up, can't wait to see you!
Listen to what others are saying:
I am now hooked on mosaics! Cheryl Cohen is a creative teacher who knows instinctively how much assistance each student needs. She patiently encourages her students with a healthy dose of humor and fun. I love the flexibility to choose our own projects as well as the her offerings of unique specialty classes.
Linda Taintor
Cheryl Cohen is a wonderful teacher!  Mosaics are tougher than I thought, but Cheryl takes you through every step with simple explanations, brilliant ideas and wacky humor!  She is generous with her expertise and with her extensive collection of materials. Every class brings new discovery and new inspiration.
Melissa Maglio
I just want to give a shout out to Cheryl Cohen at Cheryl Cohen Mosaics in Holliston. My son absolutely loves seeing her each week. "My son has Autism and Cheryl is so great with him and this is so calming for him. I am so happy we have this gem right in Holliston!"
Andrea Chesmore
When creating mosaics, I realized that I could be creative, and capable. I love the variations in this art. One can use glass, tiles, pottery and make abstract or figurative art.  Cheryl is very skilled at what she does and knows how to communicate her skills to others. Cheryl has created a nice community for us. Many of us have become friends and although our skill levels vary we all feel included and capable.  I highly recommend giving it a try. You just might find out that you can be an artist too!
Joyce Krasner